Fuzz Force is back with a new game, a trading card game, called Isle of Swaps. Following their adorable art style of previous titles, Fuzz Force: Spook Squad & Cardterrupters (Coming Soon), Isle of Swaps sets you off to collect all of the Critter Cards throughout the island.
You are Dina, an adorable dragon, and have Critters on your mind. Having just got your first starter deck, you're itching to collect every critter in existence! The school day is done and it's time to get to collecting. Rip open booster packs, gain promo cards, then build a variety of battle decks with your Critters to claim victory in auto-battles.
Isle of Swaps is a single-player TCG focused on collecting all the cards through swapping, booster packs, and promo events. Explore the island at a leisurely pace, meet new residents that will give access to new locations, and discover all sorts of Critter Cards.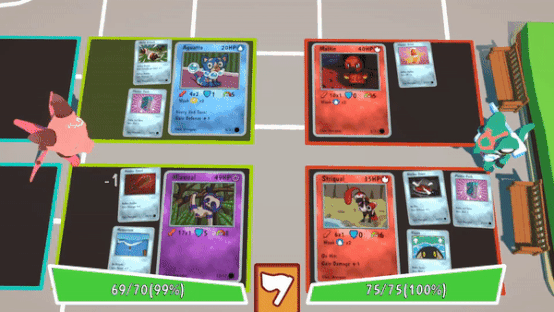 Combine your collected Critters with Support cards to build your personalized battle deck and compete in auto-battles. Watch out for those bullies Team Rockoon, who are always getting in your way and trying to steal your cards.
Features
60 different critters to collect and store lovingly in your binder
30 support cards to make all sorts of battle decks and explore all kinds of strategies
A cozy little island to explore in any direction you want…
Rivals, Team Rockoon, stand in your way, So demolish their puny cards and get them out of the way!
Gain cards in all sorts of ways. Swapping, booster packs, and picking up promos from seeing Critters: The first movie!
I love seeing any release from Fuzz Force and am excited to check out Isle of Swaps. You can wishlist Isle of Swaps over on Steam and follow Fuzz Force on Twitter for more news.