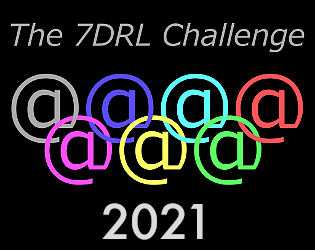 There are many game jams throughout the year. A couple of them I personally follow pretty closely. Out of this list, two of them are always top of my radar. Ludum Dare happens twice a year in April and October. The 7 Day Roguelike Challenge (7DRL) happens annually, usually around early March. The 7DRL challenges participants to create a full and playable roguelike in 7 days.
This year's 7DRL brought 264 submissions, 204 of those claiming to be completely new roguelikes! This is one of my favorite game Jams and often produces some great roguelikes worth checking out. All of the submissions for this are free to play on Itch.io. The 7DRL has helped pave the road for some amazing roguelikes that many have come to love. These range from the popular Cogmind, Dicey Dungeons, and Golden Krone Hotel, to the more unknown but definitely worth playing HyperRogue, ENYO, and 868-HACK.
The 7DRL Expo
To celebrate this yearly even The Temple of the Roguelike, a blog devoted to roguelikes and roguelites, is putting on The 7DRL Expo. You will be able to go to their website and take part in their virtual convention along with other roguelike fans, developers, and games! While there you are able to chat with everyone, play some games and even chat with the devs too! It's an awesome idea that I hope more will participate in in the future. You can go here to check it out.
To check out the list of games available head over to Itch.io and have at it! I have been sucked into 4KRL and definitely recommend you check that out and more.